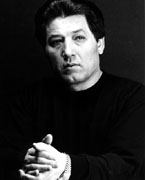 Dimitri Kavrakos is one of opera's most sought after basses. He appears regularly on the stages of the Metropolitan Opera, Lyric Opera of Chicago, Royal Opera Covent Garden, the Paris Opera, La Scala Milan, Teatro Comunale in Florence, Teatro dell'Opera in Rome, Bologna, Bordeaux, Marseilles, Genova, and Cologne. He has appeared in leading roles in prominent European festivals, including those of Salzburg, Bregenz, Aix-en-Provence, and Glyndebourne.
A busy concert artist he has performed with the symphony orchestras of Chicago, Cleveland, Minnesota, Pittsburgh, Cincinnati, Montreal, Amsterdam's Concertgebouw, and Paris, under the batons of Daniel Barenboim, James Conlon, Charles Dutoit, Edo de Waart, Bernard Haitink, James Levine, Giuseppe Patane, Helmut Rilling, Sir Georg Solti, and Riccardo Muti.
In the 2000-2001 season he appears in a new production of Il Trovatore and in the title role in Nabucco at the Metropolitan Opera. He also appears in Il Trovatore at the Teatro Colon in Buenos Aires, in Nabucco in Greece, and in Les Huguenots with the Opera Orchestra of New York. During the 1999-2000 season Mr. Kavrakos appeared in Rigoletto as Sparafucile in New York for performances of "Met in the Parks". Other performances during the 1999-2000 season included Timur in Turandot with the Opera National de Paris Bastille and Aida and Il Trovatore with the Metropolitan Opera, New York. He also sang I Lombardi in Greece and Arkel in Pelleas et Melisande with the Canadian Opera Company.
Mr. Kavrakos opened the 1998-1999 season singing Timur in Turandot with the Milwaukee Symphony Orchestra. He later traveled to Europe to perform Lorenzo in I Capuleti e i Montecchi and Raimondo in Lucia di Lammermoor at the Opera National de Paris - Bastille. After his engagements in Paris, he sang Ramfis in Aida at La Fenice in Venice. Mr. Kavrakos recorded Norma with VARA Radio and returned to his Grecian homeland to perform and record The Return of Helena at the Athens Concert Hall. This concert opera was reprised in April for Montpellier and in May for Florence.
Noteworthy engagements for Mr. Kavrakos in the 1997-1998 season included Raimondo in Lucia di Lammermoor at La Scala, Timur in Turandot at the Bastille and in Seville, Ferrando in Il Trovatore at the Metropolitan Opera, and a concert appearance with the Pittsburgh Symphony singing Verdi's Requiem. He appeared as the Grand Inquisitor in Don Carlo at the Teatro Municipal in Rio de Janeiro at the end of the season.
Mr. Kavrakos began the 1996-1997 season on tour with Florence's Teatro Comunale in Japan, where he sang Ramfis in Aida. Next, he received rave reviews as Lorenzo in I Capuleti a i Montecchi at the Bastille and continued this success as Il Cieco in Iris in Catania, as Pimen in Boris Godunov with the Houston Grand Opera, and in Samson and Delilah in Buenos Aires. He sang Verdi's Requiem in Rio de Janeiro, as well as in Buenos Aires where the concert was recorded for television.
Other notable engagements included performances at the Lyric Opera of Chicago as Timur in the new David Hockney production of Turandot, as Walton in I Puritani opposite June Anderson, and as Gremin in Eugene Onegin; the Metropolitan Opera in Luisa Miller, Don Giovanni, and Turandot; Naples' Teatro San Carlos in Lucrezia Borgia; the Chicago Symphony Orchestra in concert performances of Verdi's Otello in Chicago and New York at Carnegie Hall conducted by Sir Georg Solti; Opera Colorado in Denver in Don Carlos; London's Royal Festival Hall for the opening of the London Opera Festival with Verdi's Nabucco; the Madrid Radio Television Orchestra in Verdi's Requiem under Frubeck de Burgos; as well as a return to the Aix-en-Provence Festival for Beethoven's Missa Solemnis and Rossini's Stabat Mater & Messa di Gloria; and a return to Salzburg for Don Giovanni and Le Nozze di Figaro. Mr. Kavrakos made his debut with the Metropolitan opera as the Grand Inquisitor in Don Carlo and has subsequently performed principal roles in Aida, Ernani, Il Trovatore, I Vespri Siciliani, Romeo et Juliette, Don Giovanni, Turandot, and Simon Boccanegra.
As principal bass with the Lyric Opera of Chicago since 1980, he has appeared there in Aida, Lakme, Samson et Dalila, Macbeth, Luisa Miller, Les Contes d'Hoffmann, La Sonnambula, La Forza del Destino, Romeo et Juliette, Tosca, Die Meistersinger, I Capuleti e i Montecchi, and Fidelio.
A native of Athens, Greece, Dimitri Kavrakos made his professional debut as Zaccaria with the National Theatre of Athens. His Italian debut was as bass soloist in Verdi's Requiem at Spoleto, and his 1976 American debut was in Refice's Cecilia at Avery Fisher Hall at Lincoln Center. He has recorded the Commendatore in the Glyndebourne Don Giovanni for EMI/Angel under Bernard Haitink, and Lodovico in Otello for Decca/London under Georg Solti. He has also recorded Les Danaides and Rossini's La Petite Messe Solennelle for EMI, and Norma, La Vestale, and Rigoletto for SONY under Riccardo Muti.